Tasty Tuesday by Anna Grindeland, RD, CD: What's a "Pulse"?
Anna Grindeland, RD, CD
Photo source:
http://www.fao.org/pulses-2016/en/
Pulses arethe edible seeds of various crops, including: peas, beans, and lentils (1). To your benefit, it just so happens that 2016 is The International Year of the Pulses, declared by the United Nations in order to promote the health benefits and sustainable nature of these crops.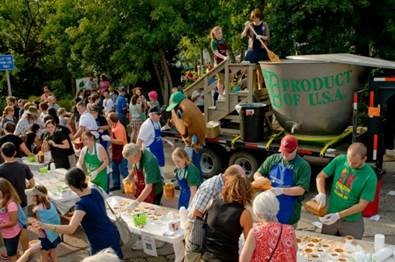 Photo source:
http://cdn.onlyinyourstate.com/wp-content/uploads/
2016/04/994017_568427629873422_1240482109_n-700x465.jpg
Did you take your family to the annual National Lentil Festival last August? The festival takes place in Pullman, WA each year to celebrate the fact that the Palouse region is the highest producing area of Lentils in the USA. This year and every year, we celebrate lentils by sharing a BIG (at left) bowl of lentil chili to the festival attendees. If this is something you haven't experienced for yourself, mark your calendars for Lentil Fest 2017!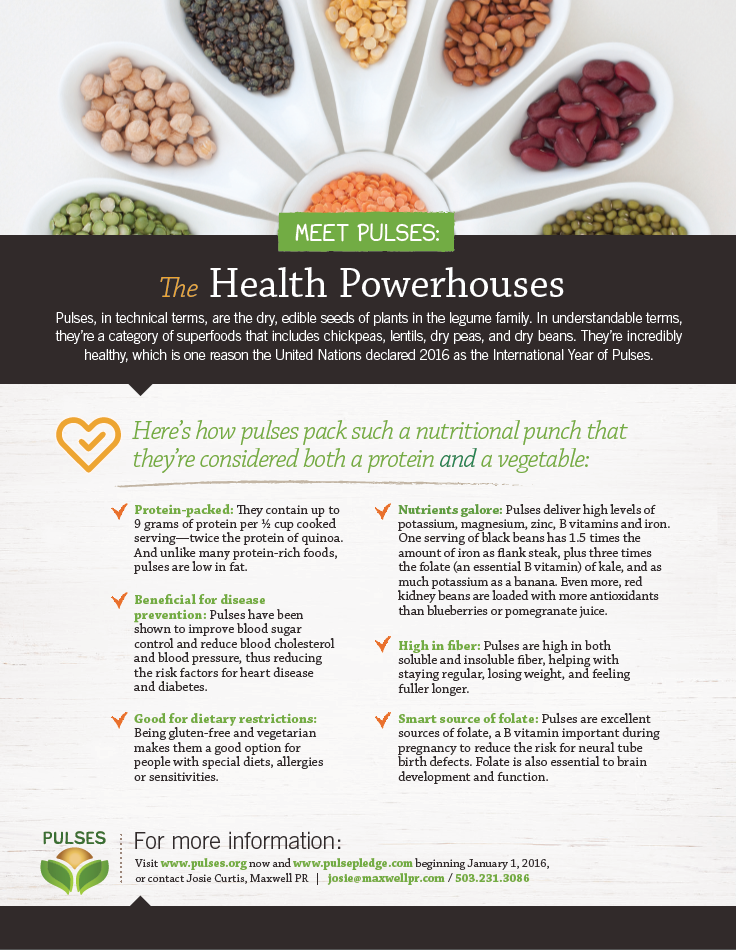 Infographic credit: http://www.lentilfest.com/wp-content/uploads/2015/02/Pulses-the-Health-Powerhouses.png
Other benefits of Pulses to celebrate:
Weight Loss
Researchers have found that people who eat lentils were more successful at losing weight, even when their diets were not geared for weight loss (2).
Versatility
From baked goods like brownies and cakes—to savory ethnic dishes like Dal—to old familiar soups and chilis—Pulses have endless possibilities of tastiness. The USA Dry Pea and Lentil Council has some amazing recipes that can be found at www.cookingwithpulses.com.
Sustainability
The Food and Agriculture Organization of the United Nations (FAO) promotes pulses for their known contribution to curbing climate change, including: Pulses' resilience, their plant variety (biodiversity), and indirect reduction of greenhouse gas emissions (3). For more information, see FAO.org.
Affordability
One pound of dry lentils purchased at a grocery store will cost you less than $1.00, and provide the protein for up to 6 hearty meals ($0.16 per meal), compared with one pound of lean ground meat which will provide the protein for 4 meals ($1.00 per meal)
The price per gram of protein tells us just how much bang you get for your buck with lentils:
Lentils =$0.008* per gram of protein-that's less than one cent!
Lean Ground Beef = $0.06* per gram of protein—that's more than 6 times more expensive!
If you are a lentil/pulse skeptic, I challenge you to try just one recipe from the USA Dry Pea and Lentil Council, or this recipe.
I would love to hear about your favorite Pulse recipe!
Resources and more information:
Have a Tasty Tuesday!
The information found in the Health Library is for educational purposes only. It is not intended nor implied to be a substitute for professional medical advice nor does it represent the views or position of WHMC. Readers should always consult with their healthcare provider for diagnosis and treatment, including for specific medical needs.