Tasty Tuesday by Anna Grindeland, RD, CD: New nutrition label
Anna Grindeland, RD, CD
Welcome the New Food Label
-Jennifer Dunavan MS, RD, LMNT, is a registered dietitian with Fremont's Hy-Vee Food Store.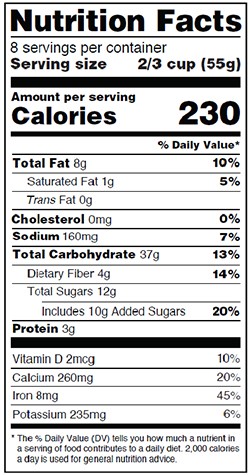 In the first major overhaul of the Nutrition Facts Panel since 1993, the Food and Drug Administration recently announced changes that will be made to nutrition labels over the next two to three years.
And the best part? The new label is less confusing, making it easier for consumers to make informed decisions about the food they eat.
Calories will be printed in bigger, bolder print, and serving sizes will be in amounts usually consumed. Think about that "individual" bag of chips you had with your sandwich, sometimes that bag is actually a serving for two! Or do you know a 20oz bottle of soda is a 2.5 person serving?
"The new panel better reflects serving size, nutrients and ingredients that people should focus on, and it updates current percent of daily values," said registered dietitian Lori Zanini, Academy of Nutrition and Dietetics spokesperson. "Our understanding of a 'serving size' has changed over the years. The new panel now lists serving size as what is typically eaten in one sitting. This new format will help by easing or even eliminating the need to multiply several servings and daily value percentages to know how much has been consumed."
The serving size for soft drinks will increase from 8 ounces to 12 ounces. Bagels and muffins will increase from 2-ounce to 4-ounce servings. However, those new serving sizes aren't necessarily the recommended portion sizes. To find out proper portion sizes, look to the USDA's MyPlate guidelines (www.choosemyplate.gov).
One of the most helpful improvements to the nutrition facts label is adding a new line revealing how much sugar has been added to a product. This will allow us to be able to tell how much sugar is coming from added sugar versus sugars that are naturally occurring from foods such as fruits and milk.
Here are some other changes:
Vitamins A and C will no longer be listed on the label because, in general, Americans do not have difficulty getting the recommended amounts of these vitamins.
Vitamin D and potassium will now be listed, since they are two key nutrients Americans need for bone and heart health, respectively.
Requirements for serving sizes now will be bold and more closely reflect the amounts of food that people currently eat. What and how much people eat and drink has changed since the last serving size requirements were published in 1993. The law, the Nutrition Labeling and Education Act, requires that serving sizes be based on what people actually eat.
There will be a declaration of grams and a percent daily value (%DV) for "added sugars" to help consumers know how much sugar has been added to the product. It is difficult to meet nutrient needs while staying within calorie limits if you consume more than 10 percent of your total daily calories from added sugars, and this is consistent with the scientific evidence supporting the 2015-2020 Dietary Guidelines for Americans.
There will be "dual column" labels to indicate both "per serving" and "per package" calorie and nutrition information for certain multi-serving food products that could be consumed in one sitting or multiple sittings. Examples include a pint of ice cream and a 3-ounce bag of chips. With dual-column labels available, people will be able to easily understand how many calories and nutrients they are getting if they eat or drink the entire package/unit at one time.
For packages that are between one and two servings, such as a 20-ounce soda, the calories and other nutrients will be required to be labeled as one serving because people typically consume it in one sitting.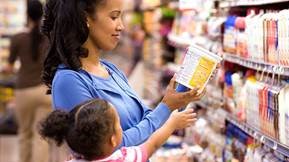 The "iconic" look of the food label consumers are familiar with will stay the same, just key information will change. All food companies must be in compliance with the new label by Summer 2018; however they can start to make the change now.
For information on how to use the current nutrition facts panel to make more informed food choices, visit http://www.eatright.org/resource/food/nutrition/nutrition-facts-and-food-labels/the-basics-of-the-nutrition-facts-panel
HAVE A GREAT DAY! HAPPY TASTY TUESDAY!
Leah R. Haak Beck, RD, CD
Supplemental Dietitian
Whitman Hospital and Medical Center
Email: Leah.haak-beck@whmc.org
Phone: 509-397-4713
Sources:
http://fremonttribune.com/lifestyles/food-and-cooking/welcome-the-new-food-label/article_6b862f68-a18f-5984-bbe4-b55ed088d1bc.html
Photo Sources:
http://www.eatright.org/resource/food/nutrition/nutrition-facts-and-food-labels/the-basics-of-the-nutrition-facts-panel
https://www.google.com/url?sa=i&rct=j&q=&esrc=s&source=images&cd=&cad=rja&uact=8&ved=0ahUKEwift7f4u8bOAhVU8WMKHbzgDOoQjRwIBw&url=http%3A%2F%2Ftruthonhealth.org%2Fblog%2F2011%2F11%2F07%2Fguest-blog-connie-evers-use-label-logic-to-find-healthier-food-choices%2F&bvm=bv.129759880,d.cGc&psig=AFQjCNE6Z8MHNLhf2Jjp6OwW69ctWTLHXw&ust=1471455166940506
The information found in the Health Library is for educational purposes only. It is not intended nor implied to be a substitute for professional medical advice nor does it represent the views or position of WHMC. Readers should always consult with their healthcare provider for diagnosis and treatment, including for specific medical needs.