Tasty Tuesday by Anna Grindeland, RD, CD: What is a dietitian?
Anna Grindeland, RD, CD
What is Dietetics, you ask? Dietetics is the application of the sciences of food and nutrition to health. It is a vital, growing profession, open to creativity and opportunity, and endless possibilities!
What is the difference between a Dietitian and a Nutritionist? A Registered Dietitian (RD or RDN) is qualified by education and a national examination to be considered the food and nutrition expert. An RD has met academic and experience requirements to qualify for their credential. In other instances, individuals may use the title Nutritionist, Nutrition Counselor or Nutrition Advisor, regardless of their education or credentials.
How do you become a Registered Dietitian? Registered Dietitians must complete a bachelor's degree from an ACEND-accredited university, complete at least 900 hours of supervised practical experience under an RD, and pass the Registration Examination for Dietitians to become credentialed as an RD.
Where do Registered Dietitians work? The majority of RDs work in the treatment and prevention of disease. They are adept in administering medical nutrition therapy, often as part of a medical team in hospitals, HMOs, private practice or other healthcare facilities. In addition, a large number of RDs work in community and public health settings and academia and research. A growing number of RDs are now working in business, journalism, sports nutrition, corporate wellness programs and other non-traditional work settings like grocery stores.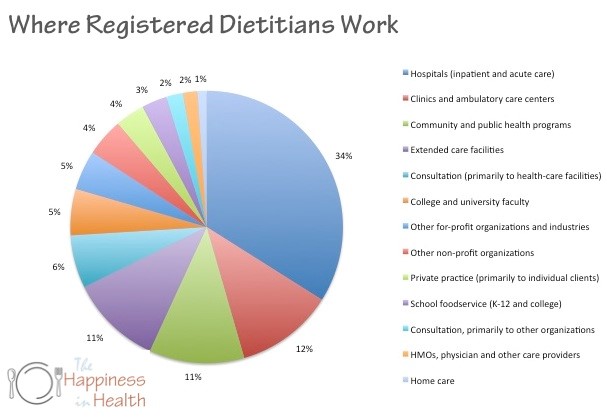 According to the U.S. Bureau of Labor Statistics, employment of RDs is expected to grow at an increasing rate because of increased emphasis on disease prevention, a growing and aging population, and public interest in nutrition.
Are there Areas of Expertise in Dietetics? There are specialty credentials in areas of gerontological nutrition (CSG), sports dietetics (CSSD), pediatric nutrition (CSP), renal nutrition (CSR) and oncology nutrition (CSO). Board-certified specialists are credentialed by the Commission on Dietetic Registration, the credentialing agency for the Academy of Nutrition and Dietetics.
The information in this article was adapted from the following sources:
The information found in the Health Library is for educational purposes only. It is not intended nor implied to be a substitute for professional medical advice nor does it represent the views or position of WHMC. Readers should always consult with their healthcare provider for diagnosis and treatment, including for specific medical needs.