Tasty Tuesday by Anna Grindeland, RD, CD: The great pumpkin
Anna Grindeland, RD, CD
Although your pumpkin might not rise out of the ground on All Hallow's Eve, it's a food that is likely to be around this autumn and winter. We all know and love pumpkin bread (most of us, at least), and even though pumpkins and other squashes are very healthy for us, the added sugars and fats in baked goods are not.
Cooking a whole pumpkin is way easier than you think if you've never done it before. Firstly, make sure you are buying "pie" or "sweet" pumpkins for all your cooking and baking. These are different than "Jack-o-Lantern" or "carving" pumpkins, which have less meat and are stringy, bland, and not grown with eating in mind (although seeds are still very edible after roasted).
To bake your own:
Simply wash the skin, cut squash in half or quarter (for faster cooking, cut smaller pieces but the bigger the pieces the easier it is to scoop out once it's cooked). Bake flesh-side up in a casserole dish covered with foil. It might help to put a little water in the bottom of the pan, but it's not necessary. Bake at 350 degrees for 30-50minutes, depending on your oven and size of squash. It is done when you can easily pierce the flesh with a fork. Take out of the oven, let cool enough to handle, and spoon the soft flesh into airtight containers for use in your cooking. Keeps for up to 5 days, refrigerated.
Or, go the canned route.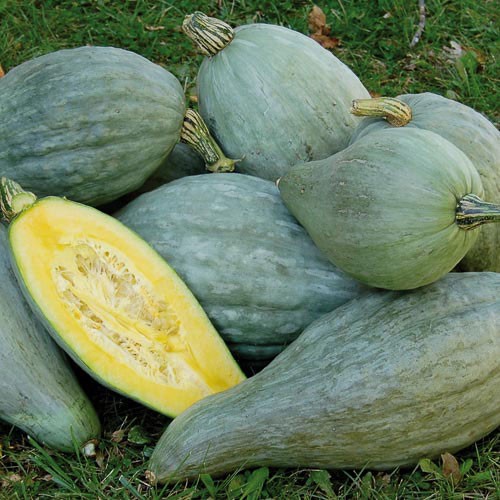 Any kind of squash can be a wonderfully savory centerpiece to an easy weeknight meal. Try swapping the pumpkin for other squashes, 1:1 in your recipes for a taste of their different flavors: Acorn squash, butternut squash, buttercups, carnivals, Hubbard, or the mystery squash you don't know the name of…
Anybody?
Pumpkin Nutrition:
1/2 cup of 100% pureed pumpkin has only 50 calories, is very low in fat and sodium, and high in fiber and Vitamin A (especially good for Kids!). There are 10 grams carbs, 7 net carbs per 1/2 cup serving, making pumpkins a great lower-carb alternative to potatoes and yams.
RECIPE: Pumpkin Risotto, from anerdcooks.com
Ingredients:
5 cups chicken or vegetable stock/broth
2 tbsp. olive oil
2 tbsp. butter
1 onion, chopped
3 cloves of garlic, minced
2 tsp fresh thyme leaves
1 1/2 cups Arborio rice (can be found in most grocery stores, this is a special kind of rice that works best for making Risotto)
1 15 oz. can pumpkin puree (or 1 3/4 cup puree)
1/2 tsp cinnamon
1/4 tsp ground nutmeg
1/2 – 1 cup parmesan cheese, shredded
salt and pepper, to taste
Directions:
In a medium pot, heat the broth/stock to a simmer.
In a large, heavy bottomed pot, add the olive oil and butter over medium heat. Once the butter is melted, add the onion, garlic, and thyme, stirring occasionally. Cook until the onions are soft and translucent.
Add the rice, stirring to coat each grain with the butter and oil. Stirring fairly constantly, wait until you smell a nutty aroma. That lets you know that the rice has been toasted a bit.
A couple of ladles at a time, add the warmed broth/stock to the rice. Stir constantly. Once the liquid has been absorbed, add another couple of ladles. More stirring. Repeat this until most or all of the liquid had been incorporated and absorbed, and the rice has a nice tender bite to it. I don't usually end up making use of all 5 cups of broth, so if you don't either, that's fine. Rely on your eyes and occasional bites of the risotto to guide you.
Add the pumpkin puree, stirring to incorporate well. Add the spices and cheese. Stir, stir, stir. Add salt and pepper to taste.
More recipes:
5 minute Smokey Pumpkin Hummus
Healthy Pumpkin Biscuits with Sage
Pumpkin and Ricotta Casserole
Pumpkin Thyme Mac n Cheese
The information found in the Health Library is for educational purposes only. It is not intended nor implied to be a substitute for professional medical advice nor does it represent the views or position of WHMC. Readers should always consult with their healthcare provider for diagnosis and treatment, including for specific medical needs.