Tasty Tuesday by Anna Grindeland, RD, CD: Eat your roots—a short guide
Anna Grindeland, RD, CD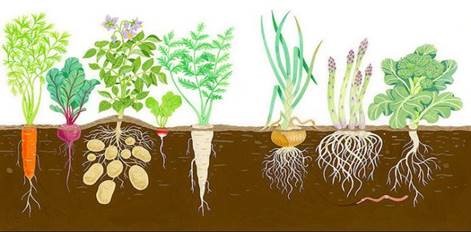 The leaves are turning to reds and yellows, the temperatures are dropping, and the sun is beginning to hang lower in the sky. This can only mean one thing: Its root vegetable season. Parsnips, carrots, rutabagas, beets, kohlrabi, jicama, onions, garlic, sweet potatoes and yams are all at their prime time—and here are some ways you can enjoy them to their fullest:
Picking a Root Vegetable: Unlike with fruit, you want to pick out your root vegetables by choosing the firmest one—the harder, the better. If the vegetable comes with leafy green tops, make sure they are brightly colored and firm.
Storing Root Vegetables: Because they come from underground, roots like the dark. Store them covered in a plastic or paper bag in a cool, dark place like under a shelf in your pantry or in your refrigerator's crisper. Root vegetables start to lose their water content after they are picked, so fresher means moister, older means drier.
Cooking Root Vegetables: Roots are perhaps the most versatile food—they can be boiled, steamed, pureed, sautéed, roasted, or some can even be eaten raw, like Jicama. Roasting vegetables brings out the sugars in them, masking any natural bitterness they may have.
In addition to being delicious and wildly in-season right now, Root Vegetables pack a lot of great nutrition. Roots pull their nutrition from the soil they are planted in, soaking up minerals such as Calcium, Magnesium, and skin-healthy Zinc. Beets and Kholrabi are rich in heart-healthy Potassium and Fiber, while Turnips and Rutabagas are good sources of Folate. Potatoes have more than twice the Potassium of a Banana and of course Sweet Potatoes and Carrots are rich in Vitamin A—which is no mistake! Vitamin A and its precursor Beta Carotene are known to improve eye health, which is increasingly important in the coming winter months as it gets darker earlier in the day.
Enjoy this recipe:
Kale-and-Horseradish Potatoes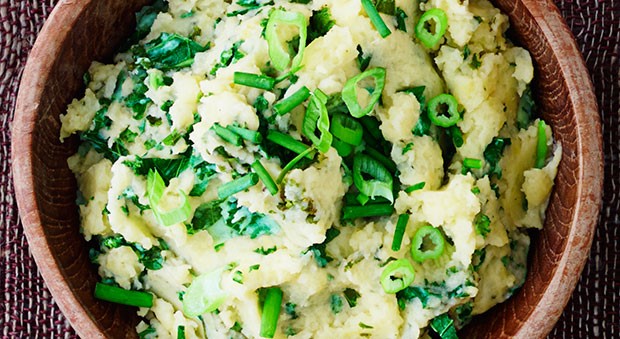 Give a fresh and spicy kick to your usual mashed potatoes with a hint of horseradish and verdant kale.
TOTAL TIME: 1:00
PREP: 0:20
LEVEL: MODERATE
SERVES: 12
INGREDIENTS
4 lb. Yukon gold potatoes
1/4 c. Butter
1 bunch curly kale
3 green onions
1 c. low fat milk
½ c. low fat plain greek yogurt
¼ c. prepared horseradish
DIRECTIONS
In 7- to 8-quart sauce pot, combine potatoes, enough cold water to cover by 1 inch, and 1 tablespoon salt. Partially cover and heat to simmering on high. Remove cover and simmer 20 to 25 minutes, or until potatoes are very tender but not falling apart, stirring occasionally.
Meanwhile, in 3-quart saucepan, melt butter on medium. Add kale, 1 tablespoon water, and 1/2 teaspoon salt. Cover and cook 3 to 4 minutes or until tender, stirring occasionally. Stir in green onions; cook 2 minutes. Remove from heat.
Drain potatoes well; return to empty pot. Mash potatoes or put through ricer. Stir in milk, yogurt, kale mixture, and horseradish. Serve warm.
Recipe adapted from source: http://www.delish.com/cooking/recipe-ideas/recipes/a35857/kale-horseradish-potatoes-recipe-ghk1114/
The information found in the Health Library is for educational purposes only. It is not intended nor implied to be a substitute for professional medical advice nor does it represent the views or position of WHMC. Readers should always consult with their healthcare provider for diagnosis and treatment, including for specific medical needs.