Tasty Tuesday by Anna Grindeland, RD, CD: How to Make a Smart New Year's Resolution
Anna Grindeland, RD, CD
If you are one of the millions of people that makes new year's resolutions related to your health-- and you want to keep it--here are some suggestions to keep you motivated and accountable in 2017:
#1: Set a SMART Goal.
Specific—Stick with only 1 or 2 long-term goals that you know you would like to achieve. Examples could be running a 5 K, Losing 10 pounds, or working out every day. The more specific, the better.
Measureable—Make sure you are able to track your progress: How many steps you take per day, miles you run, or time spent on the treadmill. Keep a notebook or use a mobile app that automatically records the stats for you.
Achievable—If you haven't weighed 120 pounds since you were a teenager, pick a more realistic goal for yourself. Think about the barriers between you and achieving your goal—what are they and can they be overcome?
Realistic—Be real with yourself: If you think you'll never eat chocolate again, you may want to rethink that goal, especially if chocolate is one of your favorite treats.
Time bound—Long-term goals—like running a marathon or losing 20 pounds—can only be achieved in increments. Setting smaller, stepwise goals is the key to successful accomplishment of the big ones. Put yourself on a weekly or biweekly step latter—making small, benchmark goals that are achievable in the short term that work towards the final objective.
Goals should be positive. Instead of telling yourself what you won't eat, focus on what you will eat. For example, "I will eat 5 servings of fruits and vegetables every day this week."
Other tips to keep you on track with your goals in 2016:
Buy the equipment you need to be successful: a water bottle, running shoes, a pedometer, or gym membership. This could be your first step!
Have a buddy. Success rates for healthy changes skyrocket when you have support. Join a gym with a friend or family member, start walking with a coworker, or make a pact with your dog. Having company makes the journey much more enjoyable and much more likely that you will both stick to it.
Download an App to support your progress. My Plate, Fooducate, FitBit, LoseIt, and MapMyRun are all great (and free!) choices for charting your progress. Apps like SparkPeople have the option of community support and chat to keep friends and strangers motivated.
Seek out a Registered Dietitian Nutritionist. Perhaps you need a little help from a professional to help jump-start your healthy eating or weight-loss plan. You can find a registered dietitian nutritionist (RDN) in your area on the Academy of Nutrition and Dietetics website (www.eatright.org). Scroll down on the home screen and you'll see a red arrow that says "Find an expert" and click on "search now."
If Weight Loss is one of your goals, remember:
Weight loss is hard
Weight loss is possible
There is no such thing as a miracle drug, diet, "cleanse," or expensive program that will give you lasting results. LIFESTYLE changes, LONG-TERM eating patterns, and CONSISTENT EXERCISE are the keys to success.
A healthy amount of weight loss to expect is 1-2 pounds per week.
Reader's Digest Blueberry Orange Recipe: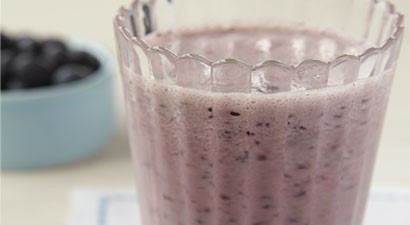 Prep 5 min
Serves 2
This naturally sweet and creamy smoothie will get you off to a good start in the morning. Blueberries and fresh orange juice are high in vitamin C, antioxidants, and fiber.
Ingredients:
3 or 4 ice cubes, optional
1 cup plain low-fat yogurt
1 cup fresh orange juice
1 cup fresh or frozen blueberries (if frozen, omit ice cubes)
1/2 teaspoon vanilla extract
Directions: In a blender, puree the ice (if using), yogurt, orange juice, blueberries, and vanilla until smooth. Pour into two tall glasses.
Nutrition Facts: Calories: 180 Fat: 2 g Saturated Fat: 1 g Cholesterol: 10 mg Sodium: 86 mg Carbs: 33 g Protein: 6 g Fiber: 2 g
The information found in the Health Library is for educational purposes only. It is not intended nor implied to be a substitute for professional medical advice nor does it represent the views or position of WHMC. Readers should always consult with their healthcare provider for diagnosis and treatment, including for specific medical needs.