Tasty Tuesday by Anna Grindeland, RD, CD: Healthy school lunches
Anna Grindeland, RD, CD
"The National School Lunch Program is a federally assisted meal program operating in public and nonprofit private schools and residential child care institutions. It provides nutritionally balanced, low-cost or free lunches to children each school day." –The USDA Food and Nutrition Service.

Over the years, school lunch has earned itself a bad reputation, perhaps because of the way we remember how it used to be….
The Food and Nutrition Service works year after year to make meals more nutritious and appealing to kids (today's school lunch is not your mother's school lunch!). Even so, there are many reasons that families choose to send their own "cold" lunches to school with their kids in place of school lunches: Preferences, allergies, cost, or maybe the idea that home prepared lunches are healthier...
BUT:
When studied, researchers found that school lunches were considerably healthier than the average home-prepared lunches. In one study, home lunches were higher in calories, fat, and added sugars, while school lunches were higher in vital nutrients such as Calcium, Vitamin A, and Vitamin C.
So how can you make sure your child is taking a nutritious lunch to school this Fall? Here are some tips and ideas to make you feel confident:
1. Consider the Plate: The USDA myplate is meant to guide our food choices for better nutrition. Always include a fruit and vegetable option in lunches. Get tips and recipes here.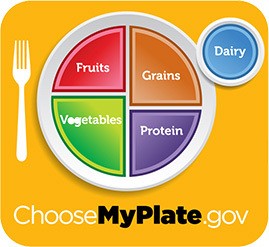 PEANUT BUTTER AND BANANA SANDWICH ON WHOLE WHEAT BREAD, CARROT STICKS WITH YOGURT RANCH DIP.
2. Consider food safety: Deli meats, cheese, mayonnaise, and other potentially hazardous foods need to stay cold. Pack lunches in an insulation bag with an ice pack to keep your kiddo safe.
TURKEY ROLL-UP: WRAP LETTUCE LEAVES AROUND 1 SLICE LOW SODIUM TURKEY MEAT AND 1 CHEESE STICK. AND CHERRIES !
3. Don't forget the fork! Not all school lunches need to be sandwiches or hand-held. Try a rice bowl with favorite toppings, barbecue chicken with celery and carrots, or hummus dip with pita, grapes, and tomatoes.
ASIAN NOODLE BOWL: COOKED RAMEN OR OTHER ASIAN NOODLE, CHICKEN, AND GREEN SNAP PEAS. CUT MELON.
4. Why not breakfast for lunch? Pancakes with peanut butter and strawberries, scrambled egg muffins, Yogurt parfait with whole grain granola, fried or fresh fruit, and lowfat yogurt.
WHOLE WHEAT ENGLISH MUFFIN, HARD-FRIED EGG, CHEESE, and TOMATO. Apple slices on the side
For more information on your child's school lunch, contact your local school administration, or the Food and Nutrition Service: https://www.fns.usda.gov/tn/team-nutrition
The information found in the Health Library is for educational purposes only. It is not intended nor implied to be a substitute for professional medical advice nor does it represent the views or position of WHMC. Readers should always consult with their healthcare provider for diagnosis and treatment, including for specific medical needs.