Tasty Tuesday by Anna Grindeland, RD, CD: National Eating Disorders Awareness Week
Anna Grindeland, RD, CD
February 26th–March 4th is Eating Disorders Awareness week. This week's Tasty Tuesday is brought to you by the National Eating Disorders Association.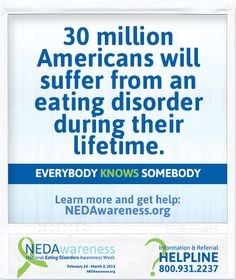 Think this doesn't apply to you? Think again, because the chances are you love someone who has or is struggling with an eating disorder.
#NEDAwareness Week 2017
"Spearheaded by the National Eating Disorders Association, the goal of National Eating Disorders Awareness (#NEDAwareness) Week is to shine the spotlight on eating disorders and put life-saving resources into the hands of those in need. This year's theme is It's Time to Talk About It and we're encouraging everyone to get screened.
"It's time we take eating disorders seriously as public health concerns. It's time we bust the myths and get the facts. It's time to celebrate recovery and the heroes who make it possible. It's time to take action and fight for change. It's time to shatter the stigma and increase access to care. It's Time to Talk About It!"
See NEDA's Campaigns at nedawareness.org.
Steps we can all take TODAY:
Have you and your family take a quick screening test: TAKE A SCREENING TEST HERE
Know the facts:

Up to 8% of the U.S. population suffers from an eating disorder. That is nearly 24 million people and includes anorexia, bulimia and binge eating disorders.
Only 1 in 10 people with eating disorders receive treatment. Over half of those who receive treatment will not have a medical team that specializes in eating disorders.
An estimated 10-15% of people with anorexia or bulimia are male. Eating disorders do not discriminate based on gender, race, income or orientation; they can affect anyone.
In 2011, eating disorders received only $.93 per affected individual for research. Other mental illnesses, such as Alzheimer's averaged $88 per affected individual and Schizophrenia $81 per affected individual. Eating disorder research is extremely underfunded even though they have the highest mortality rates of any mental illness.
(Statistics from: avalonhillsfoundation.org)

Seek help and resources: The National Eating Disorders Association has a toll-free, confidential help line: 1-800-931-2237, as well as a chat and text helpline. NEDA also has an endless amount of resources for talking about eating disorders, body image, and healthy eating. CHECK OUT LISTS HERE.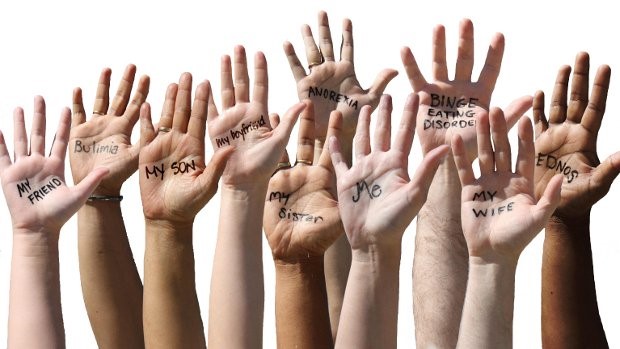 The information found in the Health Library is for educational purposes only. It is not intended nor implied to be a substitute for professional medical advice nor does it represent the views or position of WHMC. Readers should always consult with their healthcare provider for diagnosis and treatment, including for specific medical needs.