Tasty Tuesday by Anna Grindeland, RD, CD: Make this a whole summer
Anna Grindeland, RD, CD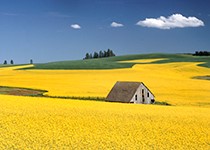 Photo source
After a long, cold winter, it is finally summertime on the Palouse!! This time of year is exciting for food, especially if you have a green thumb-- Radishes, peas, asparagus, lettuces, and strawberries are all reaching their peak in our area, and are available from your yard, grocery stores, and farmers markets.
This summer, Tasty Tuesday will be featuring tasty notes on "Whole Foods."
What does "whole" mean, anyway?
Well, if the ingredient list has more than three things listed, and at least one of those you cannot pronounce, it's off the list. "Whole foods" refers to food in its minimally processed, most natural form. It does not mean "organic", "super", or "expensive". Whole foods are what nutrition is all about, and this summer we will highlight certain foods, their nutritional resumes, and how to cook, eat, and enjoy them—for your health and enjoyment.
3 steps to eating Whole Foods right now:
Quit soda. Soda pop and other sugar-sweetened beverages do little for your health, cause unwanted weight gain, have little to no nutrition, and can lead to dental doom (cavities).
Shop the perimeter of the store. Whole foods like Milk, Apples, and Chicken are all located in the cooled section of grocery stores, which is typically on the perimeter. Avoid the candy, cookie, and snack aisles, which tend to be in the middle.
Cook at home. 2/3 of meals eaten in America are outside of the home, even though research shows over and over again that preparing foods at home has immense benefits to family health and wellbeing. Arm yourself with recipes and a grocery list, and make home cooking a habit.
Today's tasty recipe is an example of whole food cooking. Cauliflower is a hearty, long-season vegetable with a number of culinary uses. Like other cruciferous vegetables, cauliflower (meaning "Cabbage flower") is high in free-radical fighting phytonutrients, Glucosinolates. (Otherwise known as "antioxidants"). A 1 cup serving of cauliflower also gives you a healthy serving of Vitamins C, K, and Folate.
Roasted Herbed Cauliflower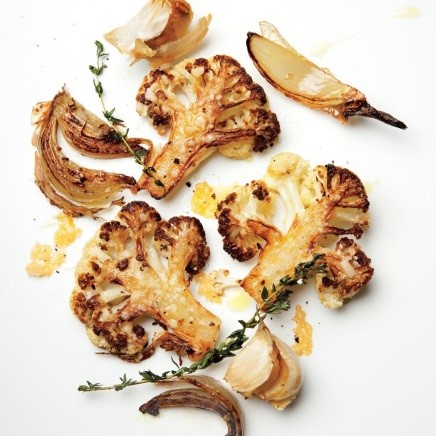 Recipe source: Anna's Kitchen
Photo: Epicurious.com
Time: 30-40 minutes start to finish
Yield: 4 healthy servings
Oven: 400 degrees F
Ingredients:
1 head cauliflower, with tight flowers and a fresh smell
2 tablespoons olive oil
1 head garlic
4-5 sprigs of fresh herbs, your choice of oregano, basil, parsley, dill, or other.
1 dash course ground salt
Directions:
Wash cauliflower by running under cool water, letting drain and shaking off excess water. Repeat 2-3 times.
Slice the butt end of the cauliflower off-- it is OK to leave some of the green leafy part, it is just as delicious!
Slice cauliflower from top to bottom in ½" slices –just like you would a loaf of bread.
Spread olive oil on nonstick baking surface.
Lay cauliflower slices down, rubbing in oil, and flipping once. It is OK if not every piece is completely covered--this is mostly to add texture and keep the cauliflower from sticking.
Lightly crush 5-6 of the biggest cloves from the garlic, and disperse among the cauliflower slices.
Pro tip: Garlic can be roasted in its papery skin! Simply slice off the top of the head, exposing just the tops of the fleshy cloves, place in 400 degree oven for 20-30 minutes until soft and aromatic. Spread on toasted bread.
Wash fresh herb sprigs gently under cold water. Shake off excess water.
With your fingers, lightly rub a small amount of oil on the herbs. This helps activate the aroma and flavor from the herbs. Disperse among cauliflower slices and garlic.
Place in oven for 25-40 minutes, turning only once. You know it's done when the edges are lightly browned and you can smell the garlic and herbs throughout the house.
Sprinkle with coarse salt and serve. Enjoy with grilled sausage, roasted chicken, or by itself!
The information found in the Health Library is for educational purposes only. It is not intended nor implied to be a substitute for professional medical advice nor does it represent the views or position of WHMC. Readers should always consult with their healthcare provider for diagnosis and treatment, including for specific medical needs.