Tasty Tuesday by Anna Grindeland, RD, CD: Hot summer, cool treats
Anna Grindeland, RD, CD
You may have read the Tasty Tuesday "The Sugar Story" about how much sugar is in many common beverages. If you are long-time TT reader, you've probably read a few articles about sugar, learned a bit about how to read labels, and hopefully learned some tips on how to curb extra sugar in your diet. With the long, hot days of summer approaching, I would like to share some cool summer ways to skip the sugar with some different cool treats.
Mindful Mock-jito
Mojitos are a classic summer cocktail made with mint, rum, lime, and typically lots of sugar. This drink can be made with or without rum, but replaces the sugar with an herb called Stevia, or "Sugar Herb." This time of year, you can find Stevia with other herbs at your local garden center—you will know it by its remarkably sweet taste!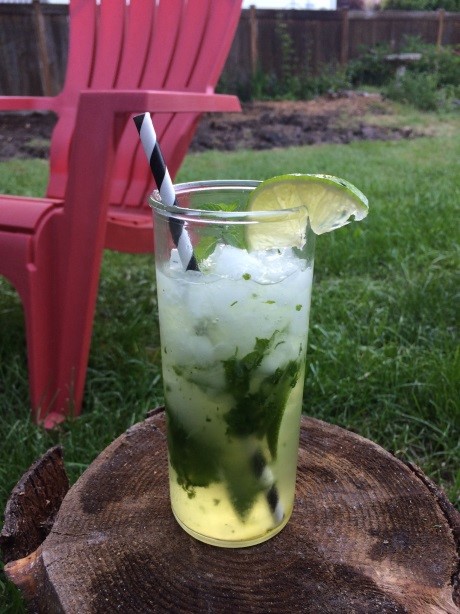 Makes: 2 Mock-jitos
Takes: 5 minutes to make
What you need: 2 Tall, thin glasses or Mason jars and a muddler
Ingredients:
10-15 fresh mint leaves, plus an extra few for garnishing
10-15 fresh stevia leaves
Ice
2 limes (1 for juicing, the other for garnishing)
Lemon or lime flavored seltzer water
Instructions: place half the mint leaves, stevia leaves, and lime juice in each glass. Use the muddler to crush down the leaves, releasing their scent and flavor. Drop 3-4 ice cubes in each glass and muddle again to crush the ice. (Adults, add rum here to your liking). Top it off with seltzer water, garnish with a lime wedge and mint sprig, and enjoy!
The Easiest Sorbet Ever
OK this is seriously the easiest recipe. As long as you have a good blender, you can make the best fruit sorbet right at home—without any added sugar. Hot days call for cold treats. Replacing the added fat and sugar in ice cream with healthy vitamins, electrolytes and energy from fruit can help fuel your summer fun. This is great for kids—let them come up with their own favorite combinations!
Makes: 4-6 servings
Takes: Freezing time and 5 minutes in the blender
What you need: A freezer and a blender
Ingredients:
3-4 large bananas, peeled, chopped, and frozen in an airtight bag.
OR
1 package of your favorite frozen fruits like strawberries, mangoes, blueberries, raspberries, etc.
Instructions: Decide your fruit combo (I like banana with a touch of cinnamon), keeping in mind that the fruit will halve in size when blended (for 1/2 cup sorbet, use 1 cup fruit). Blend fruit on high until smooth. Scoop and serve immediately. Enjoy!
The information found in the Health Library is for educational purposes only. It is not intended nor implied to be a substitute for professional medical advice nor does it represent the views or position of WHMC. Readers should always consult with their healthcare provider for diagnosis and treatment, including for specific medical needs.