Whitman Hospital and Medical Center Receives 2019 Press Ganey Guardian of Excellence Award® for Achieving and Sustaining Excellence in Patient Experience
Monday, November 18, 2019
Contact: Laurie Gronning
November 18, 2019 (Colfax, WA) – Whitman Hospital is pleased to announce it has been named a 2019 Guardian of Excellence Award® winner by Press Ganey. The Guardian of Excellence Award recognizes top-performing health care organizations that have achieved the 95th percentile or above of performance in Patient Experience, Employee Engagement, Physician Engagement or Clinical Quality.
The Press Ganey Guardian of Excellence Award is a nationally-recognized symbol of achievement in health care. Presented annually, the award honors clients who consistently sustained performance in the top 5% of all Press Ganey clients for each reporting period during the course of one year.
"Congratulations to Whitman Hospital and Medical Center for receiving the Guardian of Excellence Award," said Patrick T. Ryan, Executive Chairman of Press Ganey. "This honor reflects their unwavering commitment to improving the safety, quality, and experience of care. Their hard work and dedication are inspiring, and we are proud to partner with them on our shared mission to reduce patient suffering."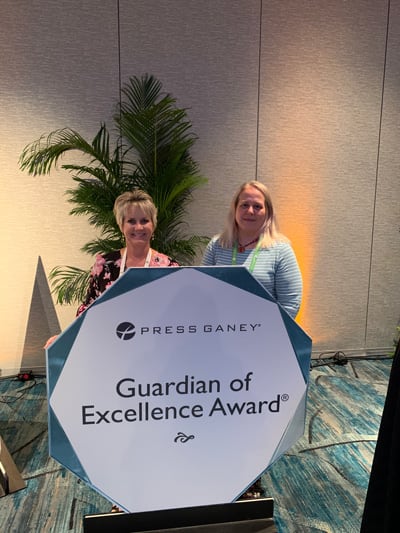 Left – Debbie Hoadley, Director of Ancillary Services;
Right – Bonnie Kirkpatrick, Occupational Therapist
According to Hank Hanigan, CEO the award represents an important recognition from the industry's leader in measuring, understanding, and improving the delivery of care. "In the ever changing world of healthcare, we strive to meet and exceed the needs of our patients. These performance measures recognize the great care provided by our providers and staff."
Whitman Hospital and Medical Center is a 25 bed Critical Access Hospital serving rural communities as a Public Hospital District covering 1200 square miles in Whitman County including the towns of Colfax, LaCrosse, Endicott, St. John, Steptoe, Hooper and Hay. Whitman Hospital offers a wide range of services including emergency, inpatient, outpatient, obstetrics, imaging, laboratory, therapy, and primary care. More information can be found at www.whitmanhospital.org
About Press Ganey
Press Ganey pioneered the health care performance improvement movement more than 30 years ago. Today, Press Ganey offers an integrated suite of solutions that enables enterprise transformation across the patient journey. Delivered through a cutting-edge digital platform built on a foundation of data security, Press Ganey solutions address safety, clinical excellence, patient experience, and workforce engagement. The company works with more than 41,000 health care facilities in its mission to reduce patient suffering and enhance caregiver resilience to improve the overall safety, quality, and experience of care.